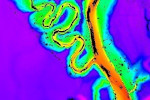 Light Detection And Ranging (LiDAR) is an active remote sensing technology that complements passive aerial imaging to provide highly accurate measurements of ground surface, terrain features, and structures. This technology uses a scanner which emits non-visible laser pulses and measures those pulse returns to generate a high-density data model from millions of individual laser points. The data set is then post-processed to apply calibrations, object classification, and geo-referencing before export into industry-standard formats for customer applications.
Airborne LiDAR systems are capable of scanning large areas quickly with a high level of accuracy. ADS utilizes an Optech Orion H300 airborne LiDAR system, with a maximum effective ground sampling rate of up to 300 kHz and incredibly wide operating envelope. This system gives us the flexibility to deliver on low-altitude projects as well as high-altitude, wide area collects. The Orion H300 enables the operator to quality control data with in-air, true coverage verification. This feature allows for better efficiency, as the operator is able to make decisions about coverage in real-time during the LiDAR mission.
ADS has the knowledge and expertise to coordinate the entire LiDAR mission, from flight plan to data delivery. LiDAR data is collected and processed by a team of technicians with an average of 27 years' experience in the geospatial industry, specifically with ADS. Our technicians have a long-standing working relationship with each other, thereby creating a true "team" working hand-in-hand to ensure timely and accurate data.

Back to Services